THE GROOVY BOOTS' re-union introduction
by the groovy boots | photo by platypus productions | tinting by west magoon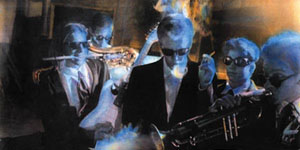 From the funky oblongata of the far reaches of Indonesia, too far to reach without your grabby stick, come THE GROOVY BOOTS. So hip, they can't see past their pelvis, this duo of duos is more re-hearsed than Jesus. These supa groovy funky muthas get down like they're a cut above the rest home.
After studying under Shaft, Isaac Hayes and George Clinton (who is the Godfather of Corned Beef Hash [and funk]), they moved on to an apartment. And studied under the mohle named West (who is totally hairless and enjoys automobiles).
Let's face it, dese guys is so cool, you could store a side of beef in 'em for a week.
Woooo dat's tight!
On sax, the grooviest mutha, Tommy Clay.
Beatin' on the four skins, André Bohren.
Dwight "he plays the bass" Thompson.
And guitar-er Adam "the guitarist" Rea.
Ladies and gentlemen, straight from West's side...
THE GROOVY BOOTS