---
Anti George Bush and Dick Cheney shirts at Merch-Bot.com.
---
"We should dig up Elvis and make a necklace out of his teeth."
Tom Waits' son, while visiting a gift shop in Memphis, TN, said this, or something along these lines. I've heard that Tom was pleased, and the other patrons of the gift shop weren't as enamored by the child's comment as the proud father.
That story is Tom Waits, mystery man who strikes terror into the hearts of those who are terrified of the syncopated, afraid of the dissonant and weirded out by the discordant.I first discovered Tom Waits at the Daily Grind Coffee Shop. Way back in the olden school days before it changed hands, then names, and finally closed, there was a man who worked there. His name was Ben (still is Ben). Ben told me that I would enjoy Tom's music.
Since I was working at Musicland that Christmas season, I played The Black Rider while I vacuumed one night after we closed. It was cool enough for me to buy. That night, as I was drifting off to sleep, I let The Black Rider play. I'm not sure if I was asleep when "Oily Night" came on, but I sure was awake by the time it was over. "Oily Night" is one of the scariest things to wake up to in the dark. It's like some kind of beautiful train wreck, to lift a phrase from Tom.
Later that week I went to see Ben. He offered to make me some tapes of Tom's albums, so I could hear them and decide if I liked the rest of his work. Ben gave me tapes of Blue Valentine, Small Change, Frank's Wild Years, Raindogs, and Bone Machine, in that order. On the way back to Laramie to start my second semester of college, I popped the first tape in the deck.
My first thought was "what is this jazz shit?" I listened to it for a while and then changed the music to something like Johnny Socko or the Mighty Mighty Bosstones. I tried to like Tom Waits, I really did, but I just couldn't get into it with all that sax and piano and smooth vocals.
I resigned myself to being stuck with only The Black Rider to keep me warm.
Weeks and weeks later, I put on Bone Machine. That did it for me. "Colosseum" caught me first and the rest of the album followed. After that, I listened to the early albums a little more closely and realized that they were almost as rad as Bone Machine. Soon I had a new musical quest.
Now I own all of Tom's commercial releases, including a bunch of his tributes and soundtrack songs. Occasionally, someone will give me a live recording of his, but the quality usually isn't there. The content, if you can make it out, is worth a mint, but generally, the hiss and poor sound are too distracting to listen to for long.
Following is a short, probably mostly untrue, biography of Tom Waits that I have gleaned using the Internet as my main source for myths and pictures. Kind of a tribute to the man.
One thing I have noticed is that Tom has changed his kid's names in interviews more than once, so take anything you read here with a grain of salt (or grain assault).
Django-
The Myth
Tom, who has told reporters that he was born at a very early age in the back seat of a taxi in a hospital parking lot, has released an eclectic, spastic, caustic collection of 18 albums since 1973. This is the myth of Tom Waits.
The Early Years
Thomas Alan Waits was born on December 7, 1949 (the eighth anniversary of the Pearl Harbor bombing, for whoever's counting). He showed an early interest in music, going as far as framing Bob Dylan lyrics and keeping a notebook near his bed to write down nocturnal song emissions. Like Frank Zappa, Tom started his facial hair image early. He tried to grow a mustache and chin as soon as he was old enough to shave. Tom worked for a while at Napoleone's Pizza House in San Diego, where Sal Napoleone used to joke that he had more hair growing wild on his ass than Tom could cultivate on his chin.
Sometime after his first album, Closing Time, was released in 1973, Tom started touring with Frank Zappa and the Mothers of Invention. Once, after opening for Frank, Tom said (imitate his voice in your head now), "I'll be at the bar if anyone wants to buy me a drink," (stop imitating his voice now). In Zappa's song "Dinah Moe Hum," Frank says, "she looked over at me with a glazed eye and some bovine perspiration on her upper lip area . . .;" on a live version of "Small Change," recorded in Sydney, Australia, 1979, Tom says, "some little guy with bovine perspiration on the upper lip area walked over and said 'bag him and tag him.'" Which came first, the Zappa or the Tom? I don't know, but whatever the case, I guess good influences influence good influences.
After living in the Tropicana Motel for a while, Tom released Small Change, a heavily jazzy album full of songs that percolated up from Tom's inebriated gut.
A Woman
Tom met his wife, Kathleen Brenan, on the set of One From the Heart, Francis Ford Coppola's huge box office disappointment that gained Tom an Emmy nomination for his soundtrack. Tom was working on the soundtrack to One From the Heart with Crystal Gayle when he met Kathleen, who was working as a script editor for the film.
Tom says, "she can lie down on nails, stick a knitting needle through her lip and still drink coffee, so I know she was the girl for me . . . I found the Marriage Chapel in the Yellow Pages, right next to 'Massage.' The Registrar's name was Watermelon and he kept calling me Mr. Watts!" A few kids (whose names change, depending on the interview) later, Tom and Kathleen have collaborated on many of Tom's albums and other projects including the albums Frank's Wild Years (album and play), Bone Machine, and Mule Variations. They also worked together on a play score for Robert Wilson's "Alice in Wonderland," which focuses not on the book by the same title, but on the relationship between Lewis Carrol and the young girl which his books are based on.
Once, when asked about his kids, Tom said, "Disneyland is Vegas for children. When I went with the kids, I just about had a stroke. It's the opposite of what they say it is. It's not a place to nurture the imagination. It's just a big clearance sale for useless items. I'm not going back, and the kids won't be allowed to return until they're 18, out of the house. And even then, I would block their decision."
Another time he said, "We've got three children now - Ajax, Edith and Montgomery - I must get them enrolled in military school immediately."
Touring
Although he doesn't tour much any more, when Tom is on the road, he says he stays in a place called "Rooms . . . there's a whole chain of them."
Despite a long absence from playing live shows, the last couple of years have seen Tom play a few benefits. At a benefit in 1996 for a friend who had been arrested on trumped-up drug charges, someone in the audience shouted, "Hey, Tom, Where you been?" Tom shot back, "Where YOU been? You still working out at the airport?"
Albums
Closing Time, Tom's first album, included "Ol' '55" (once covered by the Eagles), and is soft for the most part. "Martha" and "Ice Cream Man" are some of the catchiest songs on this record. If Bob Dylan and Leonard Cohen hadn't been discovered, this album would have rocketed Tom into everyone's living rooms. Songs to play to your friends before you go sleep in piles.
The Heart of Saturday Night opens with "New Coat of Paint," and if you didn't know better, you'd think it was Dr. John instead of Tom Waits. The last song, "The Ghosts of Saturday Night (After Hours at Napoleone's Pizza House)" recalls Tom's days as a pizza boy. This album was well received by critics, but didn't sell too well.
Nighthawks at the Diner is one of the best records in Tom's jazz repertoire. The public and critics hated this beatnikish "Live" album, which Tom recorded in a studio into which he had invited his friends to watch his show. The segues alone are worth listening to as their own album ("and you climb into the helm of a monkey shit brown Buick Super...").
Just before Small Change was released Tom left the country for a couple of weeks to write the songs that ended up on this album. Although slow jazz and songs about New Orleans dominate this record, one standout track, "Step Right Up," made Tom a slew of money years after its release. Frito-Lay copied the song and Tom's style. Long story shortened, Tom sued them and reportedly ended up with over a million dollars.
Foreign Affairs Has a track with Bette Midler and a nice piece with a live orchestra (no overdubs). This album also includes a mournful instrumental piece, "Cinny's Waltz," which was covered by Holly Cole on her Tom Waits tribute album, Temptation.
Blue Valentine. Tom's jazzy imagination slithers out of songs like "A Sweet Little Bullet From a Pretty Blue Gun" and "Christmas Card From A Hooker in Minneapolis." This CD also has one of the only cover songs Tom ever recorded on one of his albums - "Somewhere" from "West Side Story."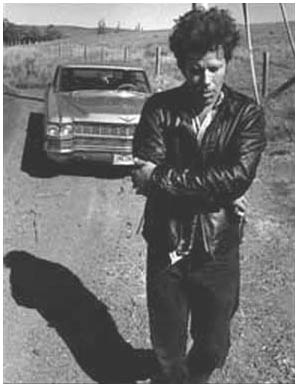 I love Heartattack and Vine! It is Tom mutating from the Jazz to the Weird. "There ain't no devil, that's just God when he's drunk" and "how do the angels get to sleep when the devil leaves the porch light on" are some of the nice religious quotes from this album. Also included is the slow, sad song, "On the Nickel," from the movie of the same name.
One From the Heart is better than mediocre. A lot better. This soundtrack goes with the bombed film of the same name. Tom teams up with Crystal Gayle for an interesting collection of songs including my favorite, "Tango," a lurching instrumental piece.
Swordfishtrombones takes Heartattack and Vine one step further. Tom continues to mutate towards the Weird. This album is the first full record where Tom converted completely to the splayed, scary music that has become somewhat of a Tom Waits trademark. Three odd instrumental tracks and "Frank's Wild Years" round out this collection of midgets, butchers and swordfishtrombones. "He got 20 years for lovin' her from some Oklahoma Governor."
Raindogs opens with "Singapore," a pirate song if there ever was one, and ends with the New Orleansesque "Anywhere I Lay My Head." In between is a mix of carnival music, suspense music and the occasional country-sounding song. In a Rolling Stone review, Tom said "[he] was thinking of the guy going back to Philadelphia from Manhattan on the Metroliner with the New York Times, looking out the window in New York as he pulls out of the station, imagining all the terrible things he doesn't have to be a part of."
Frank's Wild Years. From the driving "Hang on St. Christopher," (covered once by Rod Stewart) to the end of this play score, Tom tells a story. This album, billed as "Un Operachi Romantico in two acts," was performed on stage for the first time in Chicago, Illinois on June 22, 1986. It is the story of the redemption of an accordion player. It's hard to listen to the first couple times, but after a few tries, it goes down easy, like small pebbles.
Big Time is a mostly live album with only a couple of previously unreleased songs. The sound quality is okay, but only okay. The meat of these songs is good though, and the concert video that was released at the same time was heralded by Rolling Stone as one of the finest concert films ever made.
Bone Machine. "My friends think I'm ugly, I've got a masculine face," a quote from "Goin' out West," sums up this record. Tom teams up with überstars Les Claypool (Primus), David Hildago (Los Lobos), and Keith Richards (duh) on some songs. This albu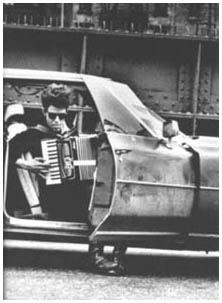 m sounds like a German dwarf beating on farm machinery and shouting through a bullhorn. "In the Colosseum," "Goin' Out West" and "Murder in the Red Barn" stand out. Way out.
Night on Earth is only graced with three vocal songs. This soundtrack for Jim Jarmusch's off-beat film about taxi drivers around the world is percussive and strangely moody. This album is a good one to drive a late night taxi to.
"Tom Waits has suddenly emerged to become the hardest-working epiglottis in show business," said Spin magazine when The Black Rider a collection of songs Tom and William S. Burroughs wrote for Robert Wilson's play of the same name was released. "Oily Night" was the first song of Tom's that I paid attention to; it was scary and it seemed to push me towards something scarier.
Beautiful Maladies: The Island Years is a disappointing collection chronicling the time Tom spent at Island Records. A good place to start, but a bad place to continue a Tom Waits fanship (mostly because all of the songs have been released on his regular albums).
Mule Variations. From the opening track "Big in Japan" you know this is another great lurching Tom Waits album. The slow songs echo Bone Machine and the faster songs spit a mixture of Bone Machine, Raindogs and Tom's recent soundtrack songs. For the most part, this album is great as both background music and up-close listening. The lyrics are pointed and studied. The music is bluesily primitive. But when you're recording in a studio on a chicken farm, what do you do besides bend the music to fit. Buy it!
Witty Conclusion
So that's Tom Waits, as near as I can figure in just under five pages. Thaks to Clay at Tersa Redbone's office for the legwork and interview, not to mention the copy of Mule Variations.
Put your mind to the cheese grater, listen to some Tom Waits. Oh yeah, and Tom, give me a call. Everybody I know has a story about talking to you except me.

---
Check out my site for cool shirts, political stickers and funny one-inch buttons.
---