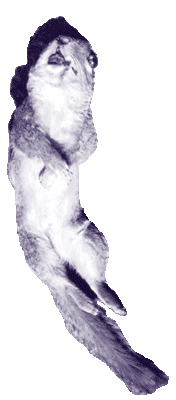 Once upon a happy little time on a street in middle-America with Blazers out in the front yard, there lived a little squirrel.
His name was Thomas, the squirrel. Thomas had a problem. He was a very lazy squirrel. He spent the
bulk of his day eating nuts out of the hands of the cute little yard gnomes in the front yards of the affluent folk
in the neighborhood. The affluent folk liked that Thomas would come and eat. The old people would watch him and it
would lower their blood pressure. Young children watched, too. They even tried to catch Thomas. All the other squirrels told
Thomas that it was bad to take advantage of mankind's affection in such a way. They told him that it made him soft, all that free food and company.
One day Thomas' friend Enrique told him, "Dawg, you're one frontin' squirrel. You need to cut that out. You know, keep it real."
This morning Thomas got up. As usual. When he got up he stretched out his little limbs. Then he made his way down to his favorite little yard gnome. Fresh salted peanuts every day.
"Ah," he said. "There's nothing in this world quite like the obsessions of the elderly and the yackety-rackety nubile dreamers feeding me salted peanuts every day."
He ate a hearty breakfast and made his way to his favorite pissing-cherub bird bath. Thomas hunkered down in blissful suburban sprawl and went to sleep. z z zz z z z zz z zz z z z zz z "hey looky" zz zz "look" zzzzzzzttTTTTTHomas was grabbed suddenly by a brown-eyed VHS compatible suburbanite slime by-product. Assembly line. Grade A. Thomas was scared as hell. He tried to move but his tail was held in some neo-Vulcan death lock. He could hear Enrique mocking him. He now understood why HUMANITY WAS EVIL. The little girl was laughing maniacally as he writhed and wiggled for his very existence.
Then time slowed down. The child's mother, sporting jogging pants and anti-bounce, shock-absorbent sports bra burst forth from the front door screaming, "No, they have rabies! NO!"
The child loosened her grip just enough for Thomas to spin on his axis and bite her elbow. The child let go a Mohican death shriek and chucked poor, lazy Thomas into oncoming traffic. He never did see that Lexis.
And then there was space. Drifting. The air and the limpness.