TheExcuse.com is a dump for things that jump out of my brain or the brains of my close friends and co-conspirators. There's plenty of humor here from the low part of a high brow, some satire from some highbrows and plenty of random imagery, photos, and strangeness.
Slumdwellaz, a HARD rap band featuring my friends Masta Rat and DocWatchout, have just released their new album, The Truth. You can download all of the MP3s free out on Slumdwellaz.com or on our record label, Thumptruck.com
Visit RainbowsAndUnicorns.com. You'll either love it or hate it. Ditto MilkMilkLemonade.com (Dirty kids rhymes from across the country).
My music review focus has been moved over to the Local Bellingham scene. Check it out at whatsup-magazine.com.
Megalopolis #11 is finally seeing the light of day. It's more than 2 years old already, and has lived in folders and on CDs the entire time. I feel like I've been abusing my magazine child. Watch this space as Megalopolis, the magazine with long hair and stubble, has an Eleven Resurrection.
Comments and questions can be directed to me at django@theexcuse.com
Now you can order anti war buttons, shirts and bumper stickers from our pals at Merch-Bot.com.
[ Order the no war button and more! ]
And just in case you didn't notice on your own, Seatthole Shirts is powering this site now. SEATTHOLE is my site that does T shirt screen printing. We provide custom t shirt screen printing, custom buttons, band promotions, website development and more.
Go there or be square.
And when you're done being square there, check out Merch-Bot.com, another member of the Seatthole family. It's full of fun and wacky tees you can buy to put on your back.
---
Professional shirt printing and custom embroidery by King Shirts. Government discounts available.
---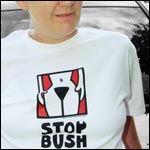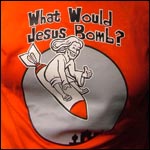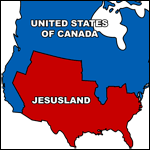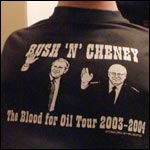 After a rough election, there's nothing like relaxing with a beer in your favorite shirt for the revolution. I mean wearing a shirt with a politial slogan while drinking a beer. Not with a beer in your shirt. You know what I mean. Anyway, Get your political shirts here.